Feb 9, 2012

Web/Tech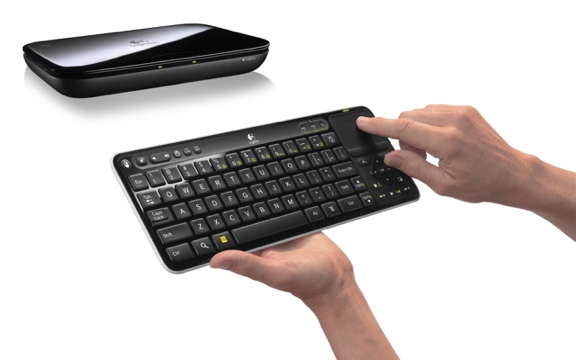 Last July, when Logitech put the Revue on sale for $99, I jumped on the opportunity and bought one. I wanted a way to watch web video on my TV without hooking up my laptop every time. I waited patiently and got it 2 days later. It was a really neat device, and I was somewhat happy with it for specific functions, but it still didn't do everything that I wanted. But with the 3.1 update to the device in the late fall, it became so much more useful, and it gets used pretty much everyday at our house. Here is a list of some of the ways that we use Google TV at our house.
Youtube – We don't watch a lot of it, but we do watch it. When our little girl wants to watch Mickey Mouse, and there isn't any on the Tivo, we can flip it over to the Youtube app and stream our favorites, playlists, and search for everything else on Youtube.
DLNA video – I have a Windows Home Server that has Tversity on it, and creates a DLNA stream across the network. So, I can go to the Logitech Media Player app and it sees everything that is on that server for video, music, and pictures. And since I have ripped most of our DVD's to file, we can watch whatever we want without putting in another disc.
Streaming Music- There is a Pandora app that comes pre-installed on the device because that is the big name. And we do use it, though my personal streaming preference is Mog. And since Mog is just a web app, all I have to do is just go to the Mog site and find what I want to listen to. I can do the same thing for Amazon Cloud music too. It will start playing whatever music I would like just as quickly as it would on my laptop through the Chrome Browser. And not only that, it also has a real Google Music app that works fantastically if you have all of your music in the cloud.
Airplay through AirTight – This is a recent addition to my arsenal of apps on the Google TV, and one of the only ones I have paid for. It was $.99 and was totally worth it. It runs in the background on your Google TV, and if you have an iOS device like an iPad or iPhone, when you have a video or picture on your device that you would like to see on the TV, you simply have to choose to push that item to the Google TV of your choice. Then it shows up on the screen, but leaves the control on the device itself. It works fantastic!
Universal Remote – We typically use a Logitech Harmony remote to control almost everything in our home, but I had an older H688 that died on me on Sunday, so I had to bring out the dead, remotes, and put batteries in them all so that I could control each piece of hardware separately while I waited on the replacement. But one thing that the Logitech Revue does, that the other Google TV's don't, is it acts as a universal remote as well. So I change the volume on my stereo, turn on and off the tv, and change channels on the Tivo, all from my Logitech keyboard or my smartphone. It is a really neat extra feature that doesn't get much praise typically from reviewers of the device.
Discussion Notes – We have a small group of people from our church over each week to pray and have bible study, and the Google TV makes it really easy for everyone to have all of the information in front of them without having pieces of paper around them. We have a Google Doc for each week that has prayer requests and any questions/notes for the week. We can have the Youversion site up on the screen for looking at scripture, and since we are going through A.W. Tozer's Pursuit of God, I can actually put the Amazon Cloud Reader link in and pull the book up on the screen with my notes attached. This works great so that everyone can see the same thing.
TV Guide – There is an app called TV & Movies that actually pulls guide data for your local TV channels, so for the Google TV in our bedroom that doesn't have a built in guide, this is a great way to find out what is on and coming on soon.
Picasa Picture Viewer – Since we push all of our photos to our Google accounts, this is a great way to get them on the big screen. it is a really nice photo viewer and my daughter loves seeing herself on the big tv, both for movies and pictures.
Netflix – Just like with everything else, Google TV has a really nice Netflix app. it has the updated interface where you can search, browse by genre, or check out recommendations without getting on a computer.
Amazon VOD – In addition to Netflix, it is also fantastic for Amazon Video on Demand. Any new movies that we want to watch at home, this is the best way to watch them. It works fantastic on the Google TV because, unlike my Tivo, there is no download time. It is just, turn it on and start watching. And if you are an Amazon Prime member, then that means you have a few thousand films and tv shows that you can watch for free too.
And as I said above, we liked the first one so much that we ended up buying a second one for our bedroom, which works amazingly well for watching stuff from the bedroom.
Now, even though it is a fantastic device, there are a few things I either plan to add or wish it did.
Placeshifting – I know that Slingbox just announced a web app that is compatible with Google TV for watching a Slingbox from your Google TV. That is fantastic, and something I am looking into, but I hate that it only works with the newer, $175 and up models, of the devices.
Timeshifting – I do wish that it had some sort of tuner and recording functionality. We have a Tivo, and I would love to be able to get rid of it, even though it is the best DVR out there.  But having that built in and having to watch TV through the HDMI port is a little different.
Network TV – Since it doesn't do timeshifting, it would be fantastic if it could do some kind of streaming from the big 4 networks or Hulu. Initially it was allowed, but after a couple of weeks, they disallowed it and cut off Google TV devices completely. There is a hack for one of the networks, but the rest don't work at all. This would be the killer item if it even had Hulu+.
Video Chat – I would love it if it had video chat. I know that the Revue has a webcam you can hook up, but it only works when chatting with proprietary software or other Revue's. It would be best if it worked with facetime, Skype, or even Google Video Chat.
Overall, it's a fantastic box, and quite cheap, especially for what it does. It's not perfect, but it's much closer than the other boxes I've tried. If you have $100 and want a streaming box that does a lot, then I would say dive in.